As Mom gets ready for another round of chemo to start tomorrow, I set about to organizing her kitchen pantry. Does a well-organized pantry help fight cancer? I don't know, but if she opens it and does not feel the agita of not finding something, I'll take it.
But it got me thinking, I imagine this list will change from year to year, but these are ten things we loved this year and are ever-present classics you would find in both of our pantries on any given day.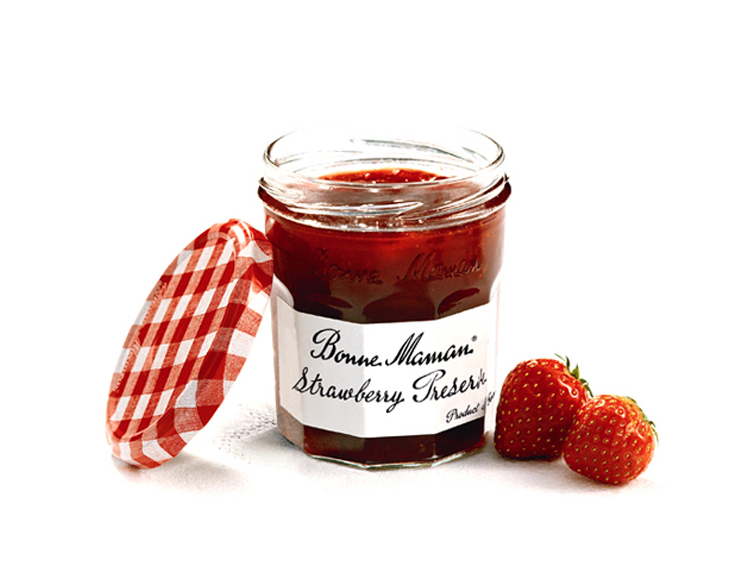 Bonne Maman Strawberry Preserves is what is served with afternoon tea at the Ritz London (take me back!) It was on the grocery shelves in Paris like it was Skippy Peanut Butter. Unless it is homemade, no other jam tastes right anymore on a scone. (We also use it in our Roasted Strawberry Buttermilk Ice Cream recipe.)
As a native of the San Francisco Bay Area, Mom grew up with Ghirardelli chocolate. If you are anywhere near the factory you can smell the chocolate being made. (It must have driven the prisoners at Alcatraz to distraction!) Whether it is tradition, or habit, we always have bags of Ghirardelli Chocolate Chips at the ready.
We love Trader Joe's (TJ's, we call them for short) for their unique, inventive products, especially the Everything Crackers. It's nice to have a bite size cracker with some serious flavor when serving a snack tray. They go well with a mild cheese, hummus, baba ganoush (my favorite!), even cream cheese!
Nearly a decade or so ago, everyone started seeing "kosher salt" in recipes. Perhaps Ina Garten had the most to do with making this variety of salt a pantry staple. Nearly every grocery store now carries it. There are various brands out there but we prefer Diamond Crystal brand. Do a taste test yourself and see just how much sweeter this salt is by comparison. We buy it by the box!
This is the same stuff Starbucks made their Passion Tea with Tazo Passion Tea before they bought Teavana. We stock up on it in the summer and there is always a pitcher in the fridge, unsweetened for a quick iced tea. Kids love it for afternoon tea because it's pink and a little fruity. Mom loves it because it is herbal and caffeine free.
We usually wait until Rao's Marinara Sauce is on sale, but this is the boss sauce you can get from a grocery store. Costco even carries it! When we open up a jar, we feel like we have a nice Italian family next door who made a big batch of their family tomato sauce recipe and kindly sent me a jar. You know a marinara is good when it's not red, it's more orange in color. The freshness!
Stubb's Original BBQ Sauce is a relatively new favorite. We used to be a KC Masterpiece house, then we were a Sweet Baby Ray's house, but my taste buds have gravitated to the less sweet, more smoky side of the barbecue spectrum. (Meat should taste like meat, not candy? A revelation for a recovering picky eater!) Comes in other great flavors too. Our pulled pork recipe usually calls for 2-3 bottles, depending on the pounds of pork we have after shredding.
Did you know Hershey's makes a Special Dark Cocoa Powder? We also have the regular cocoa in our pantries but find we haven't reached for it in forever. Why have hot cocoa when you can have dark chocolate cocoa? Why have hot fudge when you can make dark chocolate hot fudge?
We're never worried about chicken broth. Why? We both have an 8 lb. tub of Knorr Chicken broth powder in the pantry. No worries, it comes in smaller sizes. When the local grocery store's broth aisle was looking picked over soon after we entered COVID-World, I saw a gentlemen look distressed as the canned stuff was all out. I pointed out the Knorr a few steps over and said it'll last him until next year. When we don't have time to make our own broth/stock, (which is pretty much all the time) this is what we reach for.
Can we talk about our secret weapon? Half Pint, Pint, and Quart Size Resealable Containers (The ones wonton soup comes in…). We love using these because of their uniform stack-ability, and that they all use the same lid. You can buy 100 of one size for under $40 and pretty much be set for life. They will stain if you microwave tomato-based sauce in them though, but it doesn't affect performance. They hold up in the freezer, and even if they do crack, you have 99 more. We use them to help us prep and mis en place for recipes. These are the only storage containers we use now and our cabinet organization has never been better. Makes a great shower gift for the practical chef bride.
All product photos are not ours, all links are unsponsored. -C
Blue Willow Kitchen is not compensated by any companies or retailers listed in its blog posts. Links are provided for product identification as a courtesy to our readers. If you are a savvy shopper, you might find the products we list at a lower price at your local retailer. Shop local!
© 2020, Blue Willow Kitchen
bluewillowkitchen.com